INDEX - RAJASTHAN HOTELS
---
HOTELS IN JODHPUR

Hotel Ajit Bhawan Palace
Ajit Bhawan stands as on oasis of hospitality and warm Rajput charm.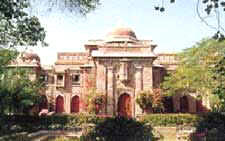 Built exclusively for Maharaj Sir Ajit Singhji the younger brother of Maharaja Umaid Singhji of the erstwhile Jodhpur state, Ajit Bhawan is vibrantly alive with the personalised hospitality provided by the late Maharaja's family who still live here.
The doors of this truly traditional yet subtlety contemporary estate are open to you. Ajit Bhawan offers you Old World elegance, with the modern comforts of a classic heritage hotel and the essence of being a guest of the Maharaj's family. Every suite is unique with a distinctive feel of the Raj. Antiques from various periods and photographs from the family archives create an ambience that suggests a private home rather than a hotel room. These suites have luxurious marble bathrooms and all modern amenities.
The room staff is attentive but discreet. Behind the Maharaj's palace lies the popular village resort that has been attracting visitors for the last twenty years. Hidden in a rustic and lush green setting, surrounded by lawns, are unique garden bungalows, with its own distinct theme and comfortable amenities. They overlook the gardens with swings, and a garden bar to unwind and relax in privacy.
LOCATION :
10 kms from airport and 8 kms from railway station.

ACCOMMODATION :
50 Rooms & Suits, air-conditioned with attached bath, 24 hours room service, telephone and colour TV in each room,

FACILITIES :
Room service, hot & cold running water, telephone, fax, television, safe deposit, channel music, bar & restaurants.

ADDRESS :
Opposite Circuit House, Jodhpur - 343 006 (Rajasthan

Hotel Reservation Form


Hotel Karni Bhawan Palace
Karni Bhawan's exclusive Rajasthani cuisine is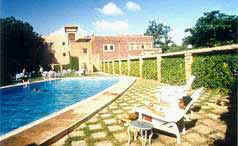 a special highlight, the team of its Chefs have delighted the Swiss in Switzerland for the six consecutive years with food festivals in Zurich, Luzern, Lausanne & Bern at leading hotels.
Our food is so popular, we have been invited again and again for this festival. Here at Karni Bhawan, it is a food festival every day.This Colonial bungalow was first converted into a Heritage Hotel which had 12 rooms in 1986. By the year 1994 the hotel had expanded to a strength of 31 luxury air conditioned and aircooled rooms and suites. All the 31 rooms and suites posses ethnic designs of Rajasthani festivity themes.All the rooms have modern attatched baths with running hot and cold water.
Another unique and special feature of Karni Bhawan is the personal care taken by the managment of the hotel and the hospitality extended to each guest by all the members of the family. Each Bedroom has special ambiance and charm.

LOCATION :
5. kms from airport.

ACCOMMODATION :
31 rooms and suites posses ethnic designs of Rajasthani festivity themes.

FACILITIES :
Breakfast buffet from at Tashli or Mosaic courtyard. Dinner buffet with live music and camp-fire from at Dhani. During Summer, Pool side dinners with live music from 8 can be arranged.

Oil massage
: on request at Reception.
Village Safari:
To sight Wildlife/To visit the dwellings of different tribes, such as the Brishnois.

Travel Desk :
Taxi, Ticketing (Air/Rail/Bus)

ADDRESS :
Jodhpur (Rajasthan).

Hotel Reservation Form

Bal Samand Bhawan Palace
Bal Samand Palace is a fine specimen of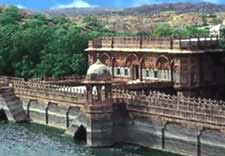 Rajput architecture in red sandstone surrounded by wide expanses of lush green gardens. It is built on the banks of Bal Samand Lake - a 13th century artificial lake. For centuries it has been an exquisite setting for royal leisure and recreation
A short distance away from the Umaid Bhawan Palace in the city of Jodhpur, Bal Samand Palace is fine specimen of the Rajput architecture. Built in red sand stone and surrounded by wide expanses of lush green gardens, it offers a quiet retreat from the hustle and bustle of the lively town of the Bal Samand lake - a 13th century water reservoir that supplied drinking water to the city, it has been an exquisite setting for royal leisure and recreation for centuries. The palace has recently been converted into a hotel & now operational as a WelcomHeritage Hotel with all modern amenities

LOCATION : 10 kms from airport and 8 kms from railway station
ACCOMMODATION : 36 rooms & Suits, air-conditioned with attached bath, 24 hours room service, telephone and colour TV in each room,
FACILITIES : Room service, hot & cold running water, telephone, fax, television, safe deposit, channel music, bar & restaurants.
ADDRESS : Mandore Road, Jodhpur - 324 006 (Rajasthan)

Hotel Reservation Form




-------------------- >> and more Hotels 1 2 3 4