THE SANCTUARY EXPERIENCE


I
f sanctuaries and national parks are your focal point of interest, then the following itinerary will pack in the experience of Rajasthan including the principal sanctuaries, Visits to areas of interest around each sanctuary are also built in.
Day 01 :
Plan to arrive, by road at Sariska be fore lunch, Spend the afternoon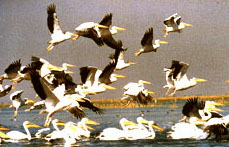 and evening relaxing, and exploring the erstwhile hunting lodge, and surrounding areas.
Day 02 :
Early morning visit the sanctuary by jeep or other motorized vehicles. In the morning , the wildlife is easier to spot, feeding or playing in groups. After breakfast drive to Jaipur After lunch a city tour of Jaipur
Day 03 :
By road to Sawai Madhopur arriving before lunch In the afternoon drive into ranthambhore National Park in jeeps where the wildlife sightings at the lake may be supplemented by a tiger sighting at sunset.
Day 04 :
Another drive into the sanctuary, Following breakfast, leave for Bharatpur (with packed picnic lunches). Rest in the evening.
Day 5 :
Early morning visit to Keoladeo Ghana National Park, on of the best bird colonies in the world. After breakfast leave for Agra to see the Taj mahal. From here , tour can continues, or end.