THE NATURE OF ECO - TOURISM

Rajasthan's wilderness resources have always been closely linked at the grassroots level, but recent initiative have guided the development of nature trails and eco tourism parks close to cities of tourist importance.
These parks endeavor to build back eco systems that have been disrupted by territorial encroachments over the decades so that a pristine environment can be recreated for the co- existence of wildlife and vegetation.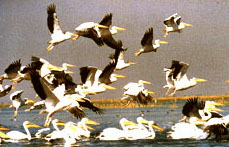 NAHARGARH BIOLOGICAL PARK - L
ocated in the vicinity of Nahargarh Fort, outside Jaipur the biological park is spread over 7.2 sq km of the Nahargarh Sanctuary It consists of quartzite and granite rocks and the vegetation of the region is adequately represented through tropical dry deciduous and tropical thorn forests.
JHALANA NATURE TRAIL : -
The perfect way to return to nature the Jhalana Nature Trail in the eastern Aravallis outside Jaipur provides an opportunity to explore the natural and man made attractions of this 10 km long trail on foot on in a jeep, or on horse and came back. Three different trails offer the opportunity to explore the bio diversity of the region where besides the natural course attempts have also been made at greening and re introduction of faunal species.
The forest today harbour antelopes wild boar hyena jackal langur, geafowl partridge and other avifaunal spices, Along the different trails it is possible to come across the following attractions.
JHALANA PARK - A
Tree park spread over 5 ha with extensive lawns play areas for children shelters and kitchens that can be used by picnickers.
MACHIA SAFARI PARK :
An area of 650 ha outside Jodhpur once used fro hunting expeditions, is now being developed as a safari park, The Machia fortress and a recent memorial built to commemorate freedom fighters are attractions besides a vegetation cover that spans the entire area, Species found here include jackal. Indian fox striped.