NAGAUR & DESERT FESTIVAL (JAN - FEB)

Duration- 5N/6 Days

Participate in two unusual celebrations a cattle fair at nagaur and a tourist fair in Jaisalmer
Day 1 :
Depart Bikaner for Nagaur visiting the Karni Mata temple at deshnoke en route, Nagaur is a sea of animals and over 70,000 are traded every year
Day 2 :
Spend day at the fair where you can see everyting from shearing sheep handsome Marwari horses to colourful spices, (Nagaur is the largest red chilly market of India.)
Day 3 :
A long drive to Jaisalmer.
Jaisalmer is a bit of a paradox. So far west that it is in the heart of the desert, one would expect barren near-desolation. Yet this frontier town is today one of Rajasthan's best-loved tourist destinations. Local colour and warmth prevail over the inhospitable and forbidding terrain, imbuing the medieval town with a special magic.
Day 4 :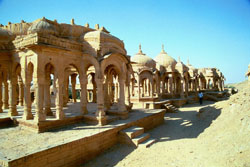 Sightseeing in Jaisalmer.
The Jaisalmer Fort: The golden - hued Jaisalmer Fort 'Sonar Kila' can be seen miles away before reaching the town.
Manak Chowk and Havelis: - A main marketplace outside the fort leads to the narrow lanes dotted with famous 'havelis'.
Havelis: Some of the most exotic mansions or 'havelis', all intricately latticed, are stretched all over Jaisalmer, each with a different facade
Gadsisar Sagar Tank: - A scenic rain water lake with numerous beautiful shrines around. The lake is an idyllic spot for outings.
Jain Temples: - The fort has three exquisitely carved Jain Temples dedicated to the Jain Tirthankaras - Rishabhdevji and Sambhavnathji
Day 5 :
Fair day with song and dance camel acrobatics and lots of visitor activities, watch the sunset at sam sand dunes, where folk dancers and musicians will perform.
Day 6 :
Proceed to next destinations.