RAJASTHAN JEEP SAFARI TOURS

The open jeep is the most conducive way of seeing Rajasthan, especially in the winter months when the chilly breeze and warm sunshine provide a heady combination. Such jeep safaris can be organized by travel agents, but should not be confused with the mere hiring of vehicles to commute between different destinations. A safari means an exploration of lesser known destinations and the countryside and may also include forays off the roads, though it is not advisable to drive in the sand for obvious reasons.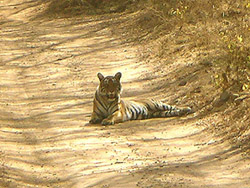 The best jeep safari country is similar to that used for horse safaris, in and around Udaipur, since the rugged Mewar terrain with its forested valleys and scraggy hills and rocky outcrops provides an entrancing landscape.
T the tribal regions, the small villages, the ruins of old forts, the temple complexes all add up to providing a sense of destination to such safaris.
Another rewarding region for jeep safaris is the Shekawati belt with its painted towns that are in close proximity to each other, but interspersed with the scraggy desert where , for miles around nothing but the sand stretches.
Jeep safaris can be fun because the pace can be varied to suit one's needs packing in days of fast traveling with leisurely camping, Safari outfits send a race team ahead for picnic lunches, and for setting up camps in the open.
Alternates can be to stay in a choice of heritage hotels that dot the vast regions of the desert.