VILLAGE TOURISM IN THE DESERT
Duration- 5N/6 Days

Jodhpur can be the base for a number of intersting circuits offering various options.
Day 1
Dr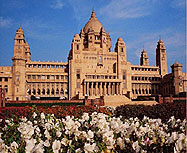 ive from Jodhpur to Rohet, to stay at Rohet Garh, Located next to a lake,. Sn intersting street leads to the fort where you will stay. A village safari where you will stay . A village safari will get into close proximity of the communities of bishnois , Rabaris and Rajputs, and to see blackbuch in the wild.
Day 2 :
Drive 100 km to Bhadrajun to stay at the fort palce, The waterlogged areas around the fort become green fields when the water recedes.
Day 3 :
Drive to Daspan visiting Jalore en route with its temples to stay at Durjan Niwas Castle,. The availability of water allows planned farming here . The area is famous for its makers of mojris Bhil bow and arrows and for its silversmiths.
Day 4 :
Drive to Siyana to stay in cottages at a farm A village safari can also be undertaken
Day 5 :
Drive to Bera to stay at cottages. Visit settlements of colourful Rabari tribals in the vicinity. The farms here are mechanised.
Day 6 :
Proceed to Mount Abu. or Udiapur.
Tour end