THE ROYAL KITCHEN

Duration- 7N/8 Days

The fine art of dining in the royal kitchens of this state is best experienced in its palace hotels where many of the retainers once served royal masters.
Day 1 :
Arrive Jaipur normal sightseeing Lunch at LMB a city restaurant known for its vegetarian food cooked in clarified butter in the finest Marwari tradition. Dinner at Achorl Lodge with its repertoire of Rajasthani floavours conjured up by Chef Ram Chander.
Day 2 :
Drive to Bikaner, En route, lunch at Roop Niwas Palace, Nawalgarh.
Day 3 :
After whole day's sightseeing dinner at Bikaner's Marudyan, hosting the speci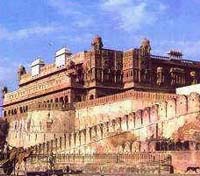 alities of the desert.
Day 4 :
Drive to Jaisalmer. Lunch at Pokaran Fort, enroute served from ther former royal kitchen.
Day 5 :
There is no facility of food at Kuldhara village, Guest are taken to this village for camel safari & catering is done from Jaisalmer. Suggest - visit to Khuri village for camel ride followed by dinner.
Day 6 :
Drive to Jodhpour where dinner will be at Kachawa Farm near Mandore, according to a special menu prepared by Maharaj Man Singh.
Day 7 :
Drive to Udaipur . Lunch at Maharani Bagh enroute.
Day 8 :
Full day sightseeing in the city. Dinner choices : Shikarbadi/ Bathera House/ Amet Haveli each celebrated for its authentic cuisine.