PUSHKAR FAIR (OCTOBER - NOVEMBER)

Duration- 2N/3 Days

The world-famous Fair is held in the sacred and peaceful town of Pushkar, 11 kms. north-west of Ajmer. It transforms into a spectacular fair ground for twelve days during the month of Kartik (Oct-Nov).
Rajasthan's most famou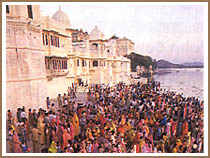 s fair, it brings together camel traders, pilgrims visitors, and those who're here simply to participate in one of the season's most colorful social events, Besides tented camps, there are hundreds of shops selling everything from handicrafts to spices, foodstuff and jewellery, for visitors a number of activities are also arranged but most simply with to stay within fair grounds to watch the fascinating Rajasthani village metamorphose before their eyes.
The Pushkar Fair, a major tourist attraction draws people from all over the globe to the ancient and secluded environment of Pushkar town. Pushkar Fair is perhaps the largest cattle fair in the world. Rajasthan which is enriched by cattle wealth is the home to many recognized breeds of cattle
Day 1 :
Arrive at Delhi and drive to pushkar and evening stay in tents.


Day 2 :
Back to the fair, camel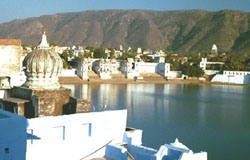 rides, visit the Bramba lake and temples on its banks, This lake soon become a favorite resort of pilgrims, and during the midlle Ages temples and cenotaphs. Gradually quite a town of religious buildings sprang up, peopled by Brahmins. The wealthy pilgrims from all parts of India brought untold riches to Pushkar, and the princes spared no expense to enrich the holy inhabitations of the sacred town. and simply keep going with the flow of the people.
Day 3 :
Proceed to next destination.