ARCHITECTURAL HERITAGE

Some Architectural Details You Should Familiarise Yourself With

SANTI HANDS : -
At the entrances of the most forts, you will see imprints of impresions of female hands, These were left behind by the women of the royal family when committing sati (burning on the funeral pyre with their husbands)
JAUHAR PITS : -
Mostly closed to visitors, these were basement pits ringed with a ramp. It was here that the women of the zenana and small children would leap to a fiery death in the event of their armies losing a battle, It was not unusual for thousands to commit jauhar at any point.
CHHATRI : -
A cenotaph or memorial raised to a dead ruler or feudal chief
BAORI :
Stepwell considered of great significance in this dry country and therefore embellished with ornamentation, Stepwells were mostly dug and build as acts of philanthrophy.
HAVELI - A
large mansion or townhouse built typically with a public area for men to recerive visitors in the front. The domestic quarters were usually ranged around a courtyard.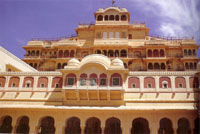 MAHAL :
Literally palaces, apartments within forts were individually called mahals because each served its own purpose, Therefore a fort or even a palace would consist of several apartments, each called a mahal.
JHOROKHA :
A window with a projection and sometimes even a balcony almost always with a pierced screen that ensured privacy and ornamental overhangs.
POL :
Entrance or gateway Though defensive by nature, they were usually also decorated.