RAJASTHAN ELEPHANT SAFARI TOURS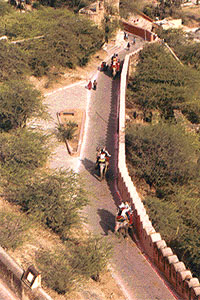 The most regal way of seeing Rajasthan is on an elephant safari, since nothing can even compare with the majesty of the parchyderm on wonder the rulers used elephants for their journeys. Equipped with a howdah, a large seat on which they would sit, complete with soft silk cushions, and with a ceremonial umbrella over their heads, modern day safaris may pale in comparison, but are no less regal on that account.
The Elephant treads slowly and steadily and a safari would be ideal in and around principal towns, especially in the vicinity of wildlife sanctuaries where the same elephants can do double duty for viewing wildlife Since and elephant safari is an elaborate affair, and requires many attendants for the beast as well such camps too tend to be more lavish, and so these are best for incentive groups who can be promised an experience, the like of which they are unlikely to ever have elsewhere.
.