ELEPHANT SAFRI

Duration- 4N/5 Days

These journeys on elephantback, with two persons sharing each howdah, can prove memorable.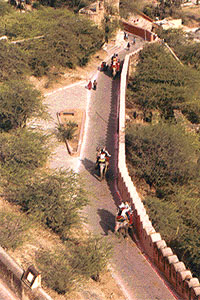 Day 1 :
Begin in jaipur with a royal visit to Amber fort from where proceed to Aodhi Ramsagar for lunch, Therefter, continue to Harmara for night camp.
Day 2
: Wind you way way past scenic Harmara lake towards Chomu stopping en route for a picnic olunch and then an early camp.
Day 3
Wind your way through Chomu town, once an important thikana, and into the sandy tracts that will be your camp for the evening.
Day 4 :
The safari will continue towards Samode, another aristocratic thikana where you can either choose to spend a few days at the historic Palace Hotel, or continue towards Shekhawati Jaipur or Delhi by car .