JAISALMER INFORMATION

Jaisalmer is a bit of a paradox. So far west that it is in the heart of the desert, one would expect barren near-desolation. Yet this frontier town is today one of Rajasthan's best-loved tourist de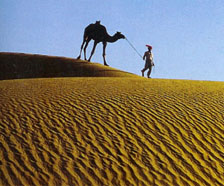 stinations. Local colour and warmth prevail over the inhospitable and forbidding terrain, imbuing the medieval town with a special magic.
Rawal Jaisal, a descendent of the Yadav Clan and a Bhati Rajput, laid the foundation of this city in 1156 AD. Trikuta was the hill chosen and Jaisal abandoned his old fort at Lodurva and established his new capital here.
The Bhati Rajputs of Jaisalmer were feudal chiefs who lived on the forced levy on the caravans that crossed their territory en-route Delhi. These caravans, laden with precious cargos of spices and silk brought great wealth to this town. Because of its remote location, Jaisalmer for years remained untouched by outside influences and during the British Raj, the rulers of Jaisalmer were the last to sign the instrument of agreement with the British.
In medieval times, its prosperity was due to its location on the main trade route linking India to Egypt, Arabia, Persia, Africa and the West. The glory of Jaisalmer faded when sea trade replaced the old land routes. But there is still an 'Arabian Nights' quality about the town. The narrow streets in the walled city preserve a traditional way of life : the craftsmen still work at the ancient crafts of weaving and stone carving, the making of silver jewellery and embroidery. And the stately, nonchalant camel is everywhere.
Just a walk through Jaisalmer, savouring the medieval glory of old Rajasthan, is a marvellously rewarding travel experience. Desert Festival, celebrated in January/ February, is a must on any itinerary. The desert seems to bloom in a thousand colours. There are camel races and folk dances. Craft bazaar and traditional balled singing. A sound and light spectacle on the sand-dunes of Sam on the full moon night. And all the colour and excitement of the best in Rajasthan.
The perfect time to visit the golden city is during the Desert Festival every year when the city reverberates to the sound of melodious tunes and rhythms. Folk dances, exciting competitions and contest especially the turban-tying contest, Mr.Desert contest and camel races enlighten the festivities. Jaisalmer is a marvel of beautiful culture and harsh climatic conditions, together amounting to a memorable experience. This is a city to be visited
The Jaisalmer Fort:
The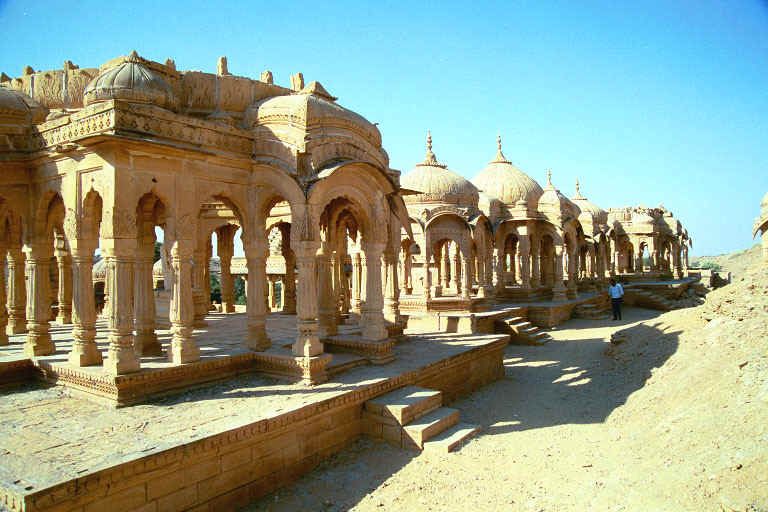 golden - hued Jaisalmer Fort 'Sonar Kila' can be seen miles away before reaching the town.
Manak Chowk and Havelis:
- A main marketplace outside the fort leads to the narrow lanes dotted with famous 'havelis'.
Havelis:
Some of the most exotic mansions or 'havelis', all intricately latticed, are stretched all over Jaisalmer, each with a different facade
Sam Sand Dunes
(42-km from Jaisalmer) : It is the closest point to witness the total sandy desert. Sam (pronounced 'sum') has a truly magnificent stretch of sweeping dunes, with little or no vegetation. The best way to see this and other sights around Jaisalmer is to take a came safari. The standard trip lasts 4 days and three nights, and offers the opportunity to explore the area in authentic and leisurely fashion, with entertainment by folk performers, visits to villages, and chatter from colourful guides thrown in