INDEX - RAJASTHAN HOTELS
---
HOTELS IN JAIPUR

Hotel Jai Mahal Palace
Address
Jacob Road, Civil lines, Jaipur - 302 006, Rajas than
Category
Five Star Deluxe Hotel

Ownership
The Indian Hotels Company Ltd.

Access
14 Km from Air Port, 1 Km from Railway Station, 2 Km from Bus stand.

Locational Advantage
City Hotel

Air conditioning
Centrally air conditioned.

Rooms
Total : 102 Single: 2 Double: 95 Suites: 5

Room Facilities
Room service, H/C running water, telephone, Fax, TV, safe deposit, channel music, tea/coffee maker.
Other facilities
Business centre, Banquet and conference facilities, beauty parlor, shopping arcade, jogging track, puppet show and folk dances every day, solar heated S/W.

Services
Doctor on call, laundry, money changer, safe deposit, Travel Desk service, baby sitting, valet.

Banquet Facilities
Restaurants: 1 Bar: 1 Halls: 1

Cuisine
Indian, Continental, Chinese.

Credit cards
AMEX, VISA, Master, CAN, BOB, Diners, Andhra

Hotel Reservation Form


Hotel Chokhidhai
Chokhi Dhani has 31 Village Huts, 34 Executive Huts. The spacious huts away from the Hub of urban polluted life offers you complete solace while you bask in the splendour of rich Rajasthani culture with every modern amenity and comfort.The grandeur of this dining hall is truly breathtaking. It serves breakfast, lunch and dinner in Indian, Chinese and Continental cuisines. The sprawling lawns near the kund can comfortably host a reception for as many as 2000 persons, in village ambience.The Shekhawati Haveli with 8 royal suites is expressely designed for quiet, intimate moments, langourous daydreaming and restful solitude enjoyed by Thakurs

LEISURE :
Two exquisite restaurants exceptional interior with double height room and frescoes gold leaf and mirror work on roof and walls.

ADDRESS :
Chomu haveli, Zorawar Singh Gate, Amer Road, Jaipur - 302 002 INDIA
LOCATION :
Located at Jaipur Tank Highway, Airport : 6km, City Centre : 18km.

ACCOMMODATION :
73, Double: 65, Suites: 8.

Hotel Reservation Form

Hotel Ramgarh Palace
Access
50 Km from Air Port, 35 Km from Railway Station, 33 Km from Bus stand.

Locational Advantage
Forest Lodge, situated inthe backdrop of the Aravalli Ranges overlooking the Ramgarh lake.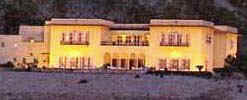 Air conditioning Air conditioned.
Rooms Total : 18 Double: 15 Suites: 3
Room Facilities
Room service, H/C running water, telephone, TV., Safe Deposit, Fax, Channel music.
Other facilities
Banquet facilities, Conference facilities, Tennis, Billiards/Snooker, Badminton, Indoor games.
Services Doctor on call, laundry, baby sitting, Valet, safe deposit, Travel Desk service.
Banquet Facilities Halls : 2 Restaurants: 1 Bar: 1
Cuisine Indian, Continental, Chinese, Rajasthani
Credit cards AMEX, VISA, Master, Diners

Hotel Reservation Form