UDAIPUR INFORMATION
---
Udaipur is situated around the shimmering clear blue water lakes, which whisper the mood of a bygone era.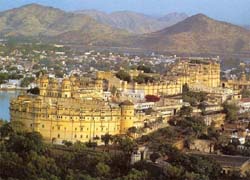 The city was founded in 1567 AD by Maharana Udai Singh on the advice of a sage. Udaipur was last of the numerous Mewar capitals. It was in Udaipur that legendary Maharana Pratap was born. He was obsessed with Chittaur and the past glories of the Sisodia clan possessed his mind. Maharana Pratap left Udaipur to win back Chittaur from the Mughals. But he failed in his attempts and Udaipur remained the capital of Mewar till India got her independence.The memory of the failure of noble Pratap gives Udaipur its pervading mood of nostalgic wistfulness.
The city acquires its scenic beauty from the Aravallis. Three lakes- Pichola, Fateh Sagar and Udai Sagar make it an oasis in the desert.
Udaipur is known as the ' City of Lakes'. The two most scenic and famous lakes of the city are Lake Pichola and Lake Fateh Sagar.

Lake Pichola
is surrounded by hills, palaces, temples, bathing ghats and has two island palaces- Jag Niwas and Jag Mandir. Lake Fateh sagar lies to north of Pichola and was built by Maharana Jai Singh but it got the name of Fateh Singh who rebuilt its dam. Both the lakes are breathtakingly beautiful and one can take a cruise on their waters. The sunset over these lakes is a sight to be cherished.
City Palace:
This majestic white royal building towers itself on a hill and is surrounded by crenellated walls. The palace stands along the shores of Pichola.
Lake Palace:
This former summer residence of the royal family has now been converted into a fabulous hotel.


Sahelion-Ki-Bari:
On the shores of Fateh Sagar Lake was built a garden for the 48 young girls waiting to be sent to the royal house as part of dowry. This garden is laid with extensive lawns, fountains and shady walking lanes. There are four pools with dainty kiosks and fountains with elephant trunks for spouts. These gardens appear discrete and impeccable in taste.


Bharatiya Lok Kala Mandal:
This is a museum of folk arts, which has rich collection of folk dresses, ornaments, puppets, masks, dolls, folk musical instruments and paintings. World famous puppeteers put shows here, on request in advance.
Pratap Memorial:
Erected atop Modi Magri is this equestrian bronze statue of the valiant hero, Maharana Pratap. Sajjan Garh, Gulab Bagh, Dudh Talai Park, the Sunset point are also the places to be seen.


Jagdish Temple:
Dedicated to Vishnu, this temple was built in 1651 AD by Maharana Jagat Singh.


Jaisamand lake:
48 kms from the city, this artificial lake was built in 17th century by Maharana Jai Singh. The marble 'Chhatris' along the embankment add grace to this second largest lake in Asia. On either sides of the lake were built the palaces for the favourite queens of the King. People of the Bhil tribe still inhabit the islands in Jaisamand lake.