SARISKA INFORMATION

Located 107 kms from Jaipur, the Sariska National Park is in a wooden valley, surrounded by barren mountains. The dry deciduou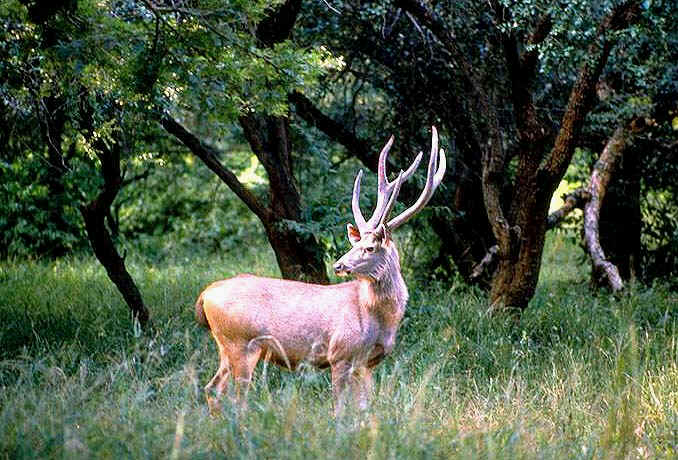 s forests of the ancient Aravalli range cover the area of the Sariska National Park and Tiger Reserve.
The main fauna in the park includes the Tiger, Panther, Hyena, Jungle Cat, Civet, Sambhar, Chinkara, Nilgai and Four-Horned Antelope. Declared a Sanctuary in 1955, it became a Tiger Reserve under Project Tiger in 1979.
The other great predator of Sariska's forests is the leopard besides the ferocious tiger. Sariska has a healthy porcupine population, and this tiny creature often pits itself against the tiger, which is particularly fond of porcupine flesh.
The 'Chowsingha' (four horned antelope) is commonly found at Sariska; exclusively Indian, it is the world's only wild creature, which has two pairs of horns. The Park's terrain is also congenial to the Chinkara (Indian Gazelle) and Nilgai.
Remarkable for their lack of timidity are the Rhesus and Langur, which, at Sariska tolerate human closeness with astonishing equanimity.
The birdlife comprises of the Pea Fowl, Gray Partridge, Quail, Sandgrouse, Tree Pie, White-Breasted Kingfisher, Golden-Backed Woodpecker, Crested Serpent, Eagle and Great Indian Horned Owl.
VIEWING THE WILD
The best way to visit the Sariska Wildlife Sanctuary is by jeep and these can be arranged at the Forest Reception Office on Jaipur Road.
Booking a `hide', overlooking one of the waterholes, can provide an excellent opportunity for viewing and photographing wildlife. So, pick up your sleeping bag and some food and settle down to watch.
PRIME SITES:
Within the park are the ruins of many temples.
The KANKWARI FORT
The Sariska Park has historic overtones. Here, Emperor Aurangzeb once imprisoned his brother, Dara Shikoh.
THE ANCIENT SHIVA TEMPLES in the precincts of the park, Neelkanth temples (6th-13th century AD), which are now in ruins, afford a wonderful sight to the visitors.
THE PALACE,
Sariska was once the royal reserve of the rulers of Alwar. This palace built by the Maharajas of Alwar, has now been converted into a hotel.