JODHPUR INFORMATION

Jodhpu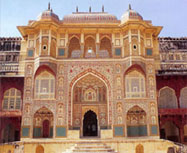 r city is surrounded by a 10 km long wall with eight gates serving as entrances. The new city is settled around this walled area. The Maruthal or 'land of death' , came into life when the Rathores of Kanauj moved in. But the city of Jodhpur was founded by Rao Jodhaji in 1459 AD.
In Jodhpur, the genius of its sculptors comes to life in its exquisite palaces, forts, temples and havelis, which stand testimony to the imperial grandeur. The most alluring part of Jodhpur is the traditional lifestyle, festivity and the smiling people who treasure this former princely state.
PRIME ATTRACTIONS
FORTS
Mehrangarh Fort
- Situated on a steep hill, Mehrangarh fort is one of the largest forts in India. The beauty and the grandeur of numerous palaces in the fort narrates a saga of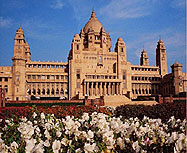 hard sandstones yielding to the chisels of skilled Jodhpuri sculptures.
PALACES
Umaid Bhawan Palace
- The only palace built in 20th century under the famine relief programme, has now been converted into a hotel with some parts being retained as a museum.
Jaswant Thada
- The 19th century royal cenotaph is built in white marble, in commemoration of Maharaja Jaswant Singh. Some rare portraits of the rulers of Jodhpur are also displayed here.
MUSEUMS
Government Museum
- This museum has a rich collection of weapons, textiles, miniature portraits, local crafts and images of Jain Tirthankars. It is situated in the middle of the Umaid public gardens.
OTHERS
Clock Tower & Sadar Market
- In the old city, clock tower is a prominent land mark. But main attraction is the Sadar Market. The market has kept alive the old 'haat bazaar' culture.

Ossian
: 65-km from Jodhpur, lie ruins of an ancient city called Ossian. This city is famous for Brahmanical and Jain temples, which belong to 8th and 11th century. Surya or Sun temple and the Sachiya temples are famous for their beauty. The 'shikhar' of Sachiya temple is clustered by two rows of turrets, an ambulatory and a large assembly hall with an elaborate ceiling.
TRIBES
Guda Bishnoi
: The villages are inhabitated by the Bishnoi tribe who are staunch believers in the sanctity of plant and animal life. Villages are marked by Khejri trees and deers, which thrive there. 25 kms from Jodhpur