INDEX - RAJASTHAN HOTELS
---
BHARATPUR INFORMATION

Bharatpur is popular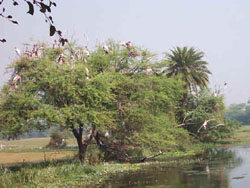 for its bird sanctuary near the Keoladeo Ghana National Park, which is the finest in Asia with a rich avian variety. Every year, the rare Siberian cranes come to spend the winter in the warmer climate of Bharatpur.
Of the remnants of the royal past remain the marvellous Bharatpur Palace housing a rich repository of a large number of ancient exhibits that date back to the early 15th century.
FORTS
Lohagarh Fort:
The massive iron structure built in the early 18th century. With its impregnable defences, it sustained itself even after a number of British attacks. The fort was conceived and designed by Maharaja Suraj Mal, the founder of Bharatpur. The fort has three palaces within its precincts - Kishori Mahal, Mahal Khas and Kothi Khas.
Jawahar Burj and Fateh Burj:
A few of the eight imposing towers still stand erect within the glorious ramparts of the fort. Especially two of them - Jawahar Burj and Fateh Burj are of special interest. These were built by Maharaja Suraj Mal to commemorate his victories over the Mughals and British respectively.
Keoladeo National Park:
Once the royal hunting reserve of the princes of Bharatpur, it is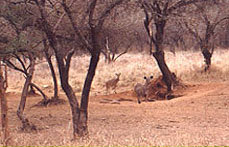 one of the finest bird sanctuaries in the world, inundated with over 400 species of water birds. Exotic migratory birds from Afghanistan, Central Asia, Tibet as well as Siberian cranes from the Arctic, greyleg geese from Siberia and barheaded geese from China, come here in July/August to spend the winters in the warmer climate and they breed till October/November.
Colonies of cormorants, spoon bills, storks, egrets, herons, pelicans, ebis and grey herons can be spotted all over the park. The raised paths camouflaged by Babul trees make their viewing easier.