INDEX - RAJASTHAN HOTELS
---
HOTELS IN BHARATPUR

Hotel Laxmi Vilas Palace
Laxmi Vilas Palace was built in 1899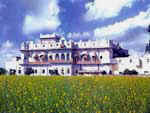 . It is an interesting blend of Mughal and Rajputana architecture. The hotel is surrounded by beautiful mustard fields. Needless to say, the palace is breathtaking and the ambience truly exalting.
At the Laxmi Vilas Palace, heritage
hospitality
goes beyond the narrow parameters of well appointed rooms, period décor, antique furniture and the best of creature comforts. Our style is equally distinguished by homely warmth,
personnel involvement and unfailing attention to various intangibles that define the rich and varied
heritage
of Rajasthan in general and
Bharatpur
in particular.


LOCATION :
Alwar 36 Kms, Jaipur 120 Kms, Delhi 200 Kms., Jaipur Agra Highway.

ACCOMMODATION :
17, Fully Air Condition Standard Rooms. Each with its own Rajasthani Character. Stay here and feel the difference.
BANQUET & CONFERENCE HALLS :
The site of the Palace makes it possible for a wide range of activities. To make your stay unforgettable Camel safaris, Horse safaris, Cycle safaris, one day to five day Jeep safaris with overnight stay in Royal Rajasthani Tents

LEISURE :
Mughlai Continental Rajasthani.

ADDRESS :
- Keoladeo National Park, Bharatpur 321 001 Rajasthan

Hotel Reservation Form


Hotel Bhanwar Vilas Palace
Location:
Karauli is situated only 64 kms off the wellknown Jaipur-Agra highway. From jaipur or Agra it is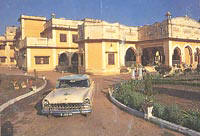 182 kms and from Bharatpur it is 110 kms.
Accommodation:
Five Luxury suites and 20 rooms furnished with all modern amenities in Bhanwar Niwas palace.
Restaurant:
Rajasthani and Indian cuisines are prepaired with great care in the royal kitchen to make your visit a rich experience in Indian Royal Gastronomics.
Facilities:
Well equipped with Medical or doctor on call, laundry same day and a provision for the side trips in closeby villages.
Special Attraction:
Two religious fairs are held in karauli one in March-April and the other in Sept.-Oct. & Witness sale of camels, horses,buffaloes etc. at the cattle fair in Feb-March.
Address:
Bhanwar Vilas Palace, Agra-Jaipur highway, Karauli - 322241

Hotel Reservation Form

Hotel Chandra Mahal Haveli
Location:
From Delhi it is 200 kms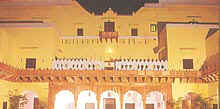 and from Agra just 75 kms, Fatehpursikri 45 kms , from Bharatpur is just 25 kms and from Swaimadhopur is 150 kms.
Accommodation:
4 Terrace rooms and 19 well appointed Double rooms with attached bath and running hot and cold water.
Restaurants:
Moghul room for Indian and Continental Cuisine and Jehangir Lounge for Drinks.
Facilities:
Car rental, Doctor on call, Fold music and cultural shows(for groups) Village excursions and jeep safaris.
Address:
Chander Mahal Haveli, Jaipur-Agra Highway, Nadbal Tehsil, Peharsar, Dist Bharatpur - Rajasthan

Hotel Reservation Form