ALWAR INFORMATION

Alwar is nestled between a cluster of small hills of the Aravalli range. Perched on the most prominent of these hills is a massive ancient fort that whispers tales of the rich history of the city.
Once an ancient Rajput state, forme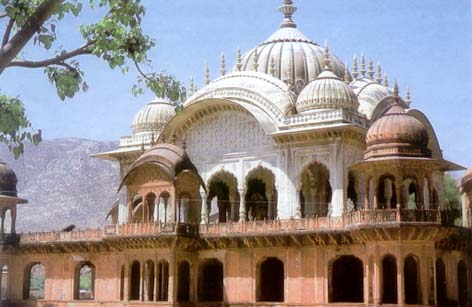 rly known as Mewat, Alwar was nearest to the imperial Delhi. The people of the state did not accept any external interferences and daringly resisted all foreign invasions. In the 12th and 13th centuries, they formed a group and raided Delhi. But finally, Sultan Balban (1267 AD - 1287 AD) suppressed them, bringing the area under the Muslim rule.
In 1771 AD, Maharaja Pratap Singh, a Kuchhwaha Rajput belonging to the clan of Jaipurís rulers, won back Alwar and founded a principality of his own.
Apart from its long history, the city has a rich natural heritage with some beautiful lakes and picturesque valleys thickly wooded in parts.
Some of the finest varieties of birds and animals are spotted here. Alwar has one of the finest wildlife sanctuaries in Rajasthan - Sariska, which is an excellent tiger country.
Jaisamand Lake:
6-km from the city, Jaisamand Lake makes a beautiful artificial lake constructed by Maharaja Jai Singh in 1910 AD; a popular spot for outings and picnics. During monsoons, sprawling greenery all around makes it a visual treat. This place is easily accessible by road from Alwar
The Fort:
This huge fort with its ramparts stretching 5-km from north to south and 1.6 kms from east to west, stands 304m above the city and 595m above the sea level, constructed before the rise of the Mughal Empire. Babar had spent a night at this fort and took away the hidden treasures to gift to his son, Humayun. Akbarís son, Jehangir had also stayed here for some time during his exile. The place where he stayed is called Salim Mahal. The fort was finally annexed by Maharana Pratap Singh in 1775 AD
Vijai Mandir Palace:
Situated 10-km away from the city this palace is a splendid palace, built by Maharaja Jai Singh in 1918 AD. A picturesque lake overlooking the palace makes it a fascinating sight.
A fabulous Sita Ram Temple in the palace attracts number of devotees, especially during Ramnavami. One needs prior permission form the Secretary to visit the palace.
The fort has several gates - Jai Pol, Suraj Pol, Laxman Pol, Chand Pol, Kishan Pol of Jal Mahal, Nikumbh Mahal, Salim Sagar, Suraj Kund and many temples.
City Palace or Vinay Vilas Mahal:
An 18th century palace, harmoniously blending the Rajput and Mughal styles of architecture. While the ground floors have been converted into government offices and district courts, the upper apartment is presently a museum