AJMER INFORMATION

Ajmer is a blend of Sufi culture and Hindu religion. Ajmer has always been a coveted and strategic place for the Rajputs, the Mughals and the Marathas. Ajmer was the seat of administration for the Chauhans till Prithviraj was defeated in 1193 AD by Mohammad Ghauri. It then became a part of the Delhi Sultanate.
However, Rana Kumbha of Mewar and Raja Maldeo again established Rajput rule over Ajmer. The annual Urs at Dargah of Khwaja Moinuddin Chishti is held on a grand scale and attracts pilgrims from all over the world irrespective of their caste and religion.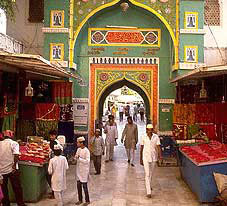 Ajmer-e-Sharief Dargah
- At the foot of a barren hill, is situated India's most important pilgrimage center for people from all faiths. It is the splendid tomb of the Sufi saint Khawaja Moinuddin Chisti more popularly known as Khawaja Saheb or Khawaja Sharif. The shrine is next only to Mecca or Median for the Muslims of South Asia. Emperor Akbar used to make a pilgrimage to this Dargah from Agra once a year.
Adhai-Din-Ka Jhonpara
- One of the finest examples of Indo-Islamic architecture, this mosque was a Sanskrit college in the 12th century. In 1193 AD Mohammad Ghori destroyed the college and a mosque was built in its place. The mosque is built on pillars and surprisingly no two pillars are alike. The archways are finely engraved with Kufi and Jughra inscriptions from the Holy Quran (also spelt as Koran).
Nasiyan (Jain Temple)
- This red coloured Jain temple was built in the late 19th century. The wooden gilt in the double storeyed hall depicts scenes from the Jain mythology. The beauty of this temple is widely acclaimed.
MUSEUMS
Govt. Museum
- The Royal palace of Akbar was converted into a museum and today it houses a rich collection of Mughal and Rajput armoury. Some of the fine and delicate sculptures of the region have been displayed here. The building itself has been constructed of red sandstone, which have been laid down in a square pattern giving it a fabulous look.
LAKES
Ana Sagar Lake
- This lake was built by Anaji during 1135-1150 AD. Later the Mughal Emperors made additional constructions to beautify the lake. The 'Baradari', a marble pavilion was built by Shah Jahan and the Daulat Bagh Gardens were laid by Jehangir. This lake is located towards the north of Ajmer city.
Taragarh Fort - Built in the 7th century by Ajaipal Chauhan, the fort gives a bird's eye view of the city. Taragarh Fort or the 'Star fort' is situated on a hill and to reach there, one has to take winding bridle path.

OTHERS
Mayo College - One of the India's best public schools, located in the south-east of the Ana Sagar, has now been converted to the Circuit House. The lake and the cenotaph and the shrine of the Hindu reformer Swami Dayanand, founder of the "Arya Samaj Movement" in India, can be viewed from here